Warmer weather is (hopefully) coming soon, and I can't wait to revamp my spring wardrobe. While I love sticking to my basic denim shorts and loose t-shirts, it's always fun to give some trends a try! Here are 5 hot trends to try out this spring:
1.Denim with Patches
I love this trend, especially since it's so easy to DIY! Patched denim is an easy way to add character to any outfit this spring. You can keep it simple with a few patches or go all out and cover your fav shorts!
2. Slit Sleeves
I'm always excited to see what the hot sleeves will be for the season, and I'm in love with these slit sleeves. They make any outfit look chic and sophisticated. My personal favorite is the look in the middle by Hellessy. The wide v-neck balances perfectly with the open, wide sleeves.
3. Metallic/Holographic
The 80s are coming back! Nothing like some metallic pieces to make any outfit ready for a party. While I don't think I'll be rocking the killer holographic jacket by Marc Jacobs, I'm definitely keeping my eye out for a shiny bodysuit for nights out!
4. Ruffles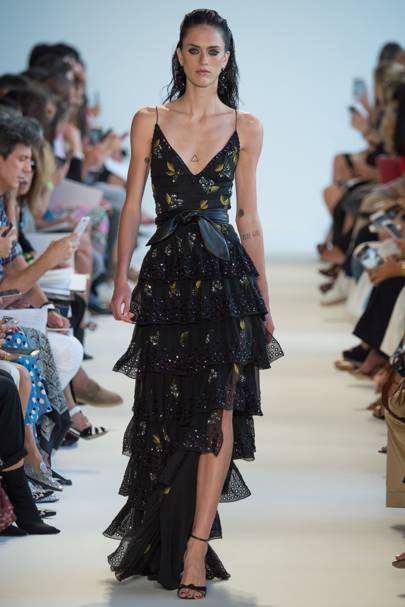 I love the romance ruffles bring to any look, especially when they're made in a light pastel or floral print. However, if that's too girly of a look for you, try finding ruffles in a darker color, like the black printed dress by Altuzarra. You can keep the look soft with dainty accessories or roughen it up by throwing on a leather jacket.
5. Floral Prints
I know what you're thinking- "Florals? For Spring? Groundbreaking." Though Miranda Priestly may not approve, I couldn't help getting excited when I saw the full-on floral looks from Dolce & Gabbana (right). Can't handle the total floral? Try pairing a fun floral top with your favorite jeans to get a similar effect.